Our integrated payments platform makes generating and managing revenue a breeze.
No Credit Card Required, 14 Day Free Trial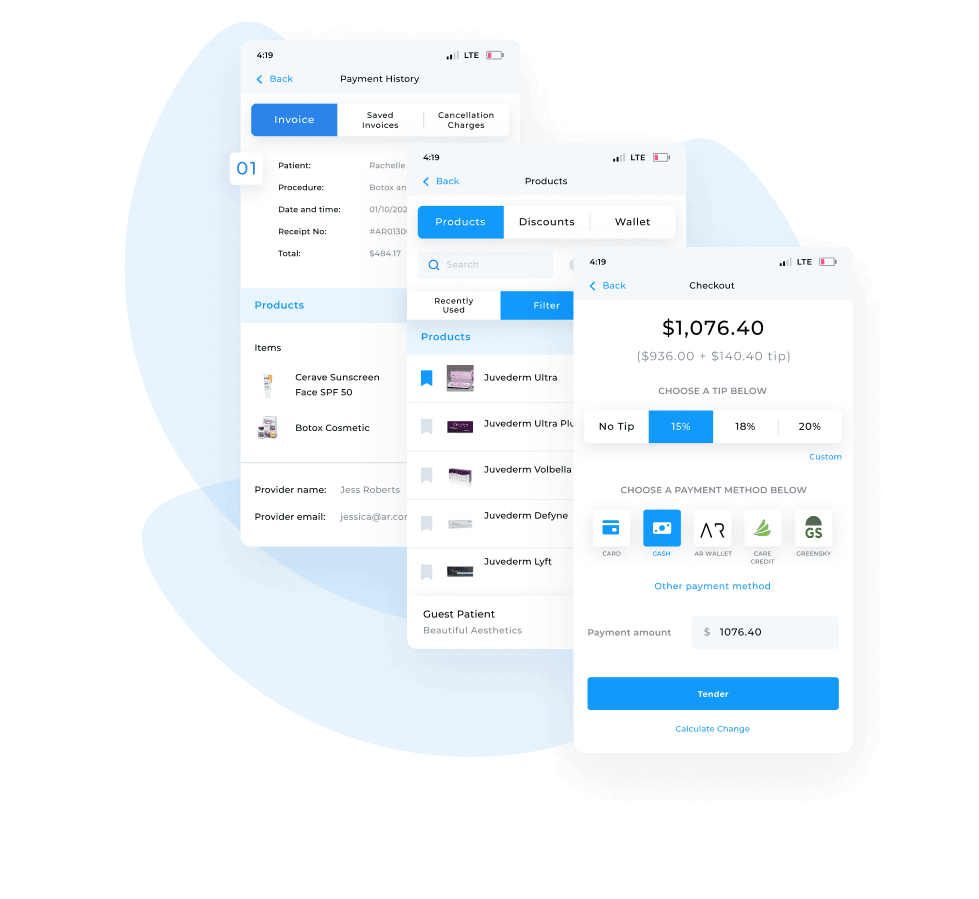 Fully Integrated Mobile Point-of-Sale
Providers can create invoices and charge patients directly from their chart within the convenience of the treatment room from a bluetooth card reader. Invoices can also be sent to the front desk for add-on sales like skincare or pre-purchases. Once you load inventory, prices and discounts, mobile checkout takes less than 60 seconds! Providers can easily access and apply existing credits from recurring payments, memberships, promotions and treatment plans without losing track of any revenue. They can apply discounts, loyalty points or eGift cards within their mobile app. As part of our Business Suite, the mobile POS connects you to real-time practice metrics like sales and inventory reporting.
Patient wallets take the headache out of managing packages, event specials, pre-purchases and discounts so you never lose track over time. If you sell treatments in a series, it's easy to apply one and send the rest to the wallet for future appointments. Multiple memberships and subscription-based treatment plans are setup for automated billing, so the credit is deposited into the patient's wallet without any additional work from your staff. Patient wallets allow you to refund an invoice but retain the payment for future appointments or charge for consultations and apply those fees directly to an invoice when the patient is treated.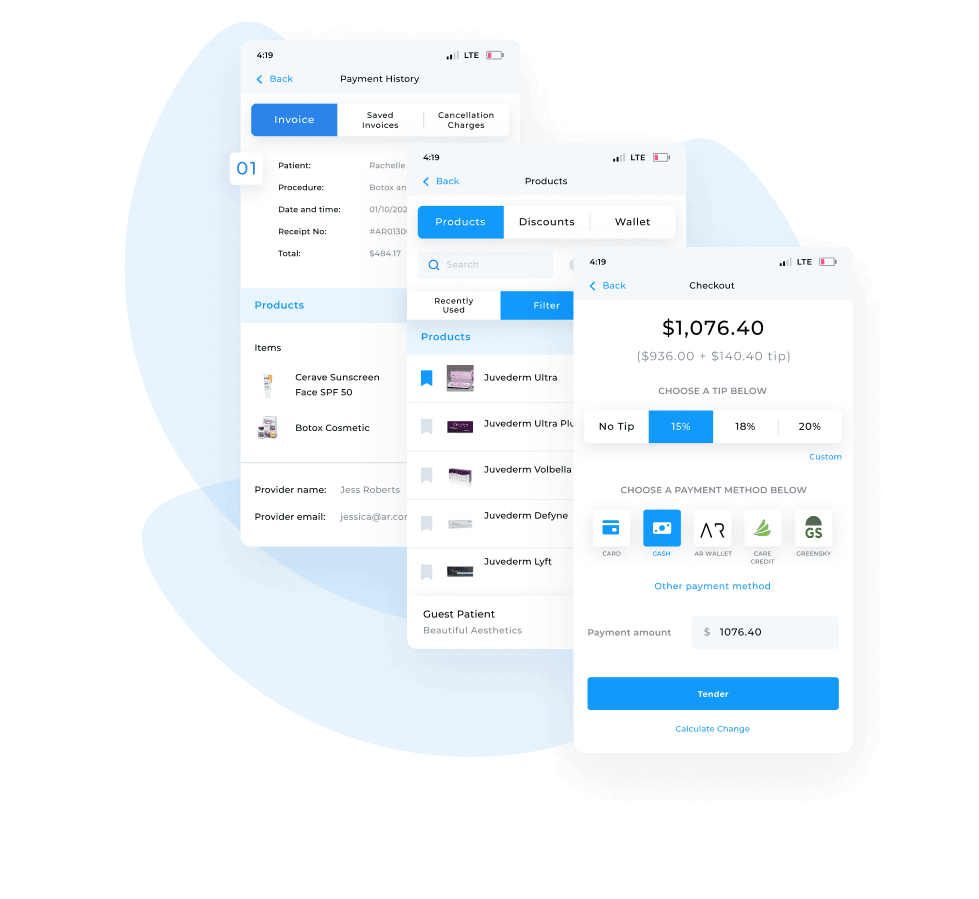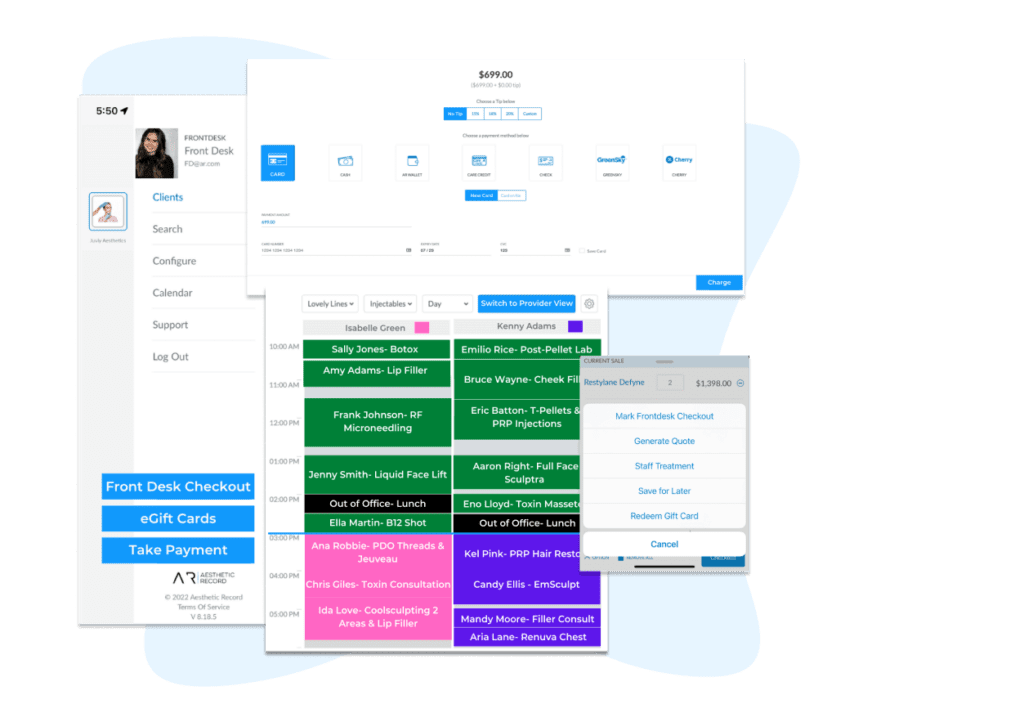 Web-Based Virtual Terminal & Front Desk Checkout
Our mobile Point-of-Sale is optimized for checkout in the treatment room, but your Practice can take advantage of additional options for finalizing invoices and taking payments! Providers can mark invoices for Front Desk Checkout and send Patients on their way. Front Desk users can take control of the invoice, add retail items, packages and more from their AR iOS app. Alternatively, Providers can prepare the invoice, then send it to the virtual terminal where staff can take payment via the web-based AR Command Center. Regardless of what you choose successful payments display on the clinic schedule so you can be sure every invoice is handled!
Fully-Integrated Cherry Patient Financing
Create a competitive advantage for your Practice and increase your Patient revenue 2-3x with Cherry's fully integrated financing options. Your Patients benefit from an 80% approval rate, a fast application with no gimmicks or hidden fees, and a soft credit check. Your Practice gets paid in 2-3 days without taking on additional risk! With our POS integration, you can enroll Patients, check available Cherry balances, transact, and report on aggregated Cherry revenue and processsing fees from inside your existing AR system. It's easier than ever to give Patients a responsible way to indulge in the Aesthetic treatments they want and need without placing an additional burden on your staff.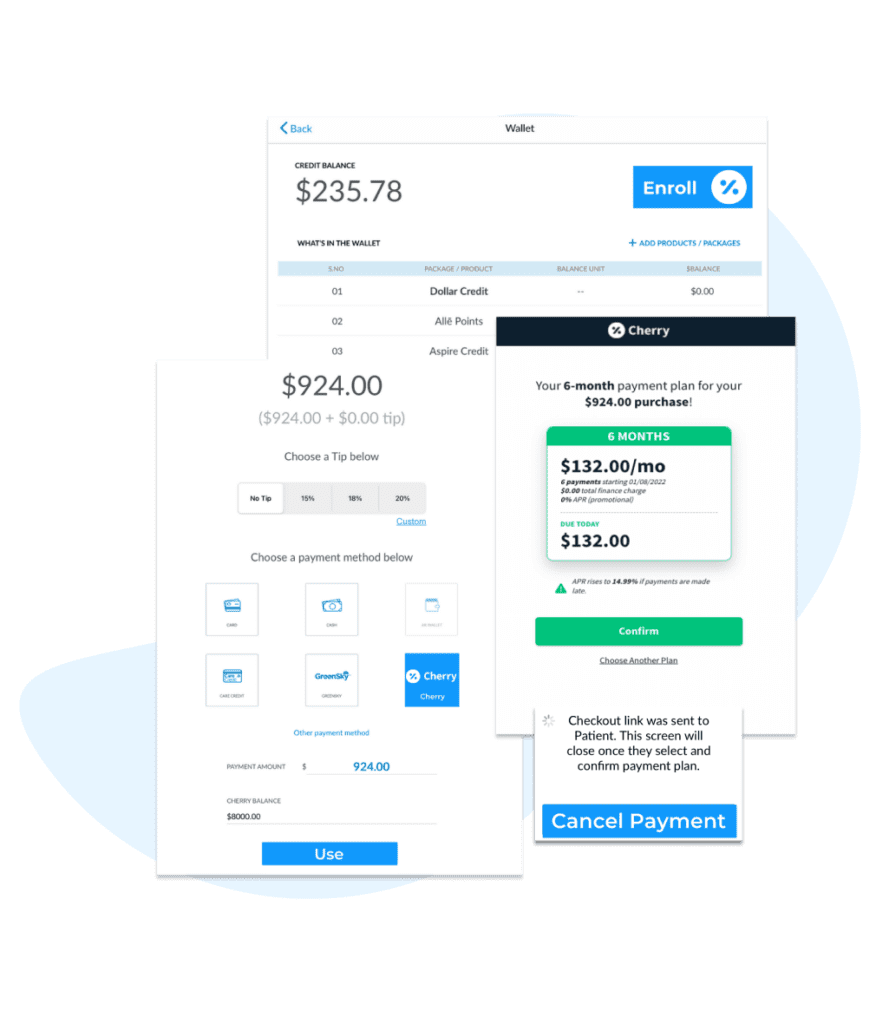 Service Deposits & Cancellation Fees
Service deposits also provide a deterrant for cancellations and no shows. You can set different service deposit amounts per treatment type, and when Patients book online or in the practice, deposits are sent straight to the wallet as a credit for that future appointment. You can get creative with service deposits, especially when pairing them with booking verticals to prepay for an event or reserve a model spot on a training day!
eGift cards are a great way to reduce the hassle associated with creating promotions and event specials. Instead of creating pages of specials, give Patients the option to buy an eGift card and bank it in their AR Wallet! They also provide a perfect gift option for your Patients who want to support your practice and encourage others to do the same by sending an eGift card to their friends and family. With our eGift cards, you set the purchase and validity dates, and we offer you the flexiblity to set different prices and values. This means you can easily build in promotional savings by offering a higher value than the price paid. Once purchased, eGift cards are sent via email to the recipient with a unique redemption code. You can track outstanding liabllity, retrieve redemption codes and resend emails from your Business Insights dashboard. If you are looking for an easy way to say thank you for Patient referrals, look no further. eGift cards are great for that, too!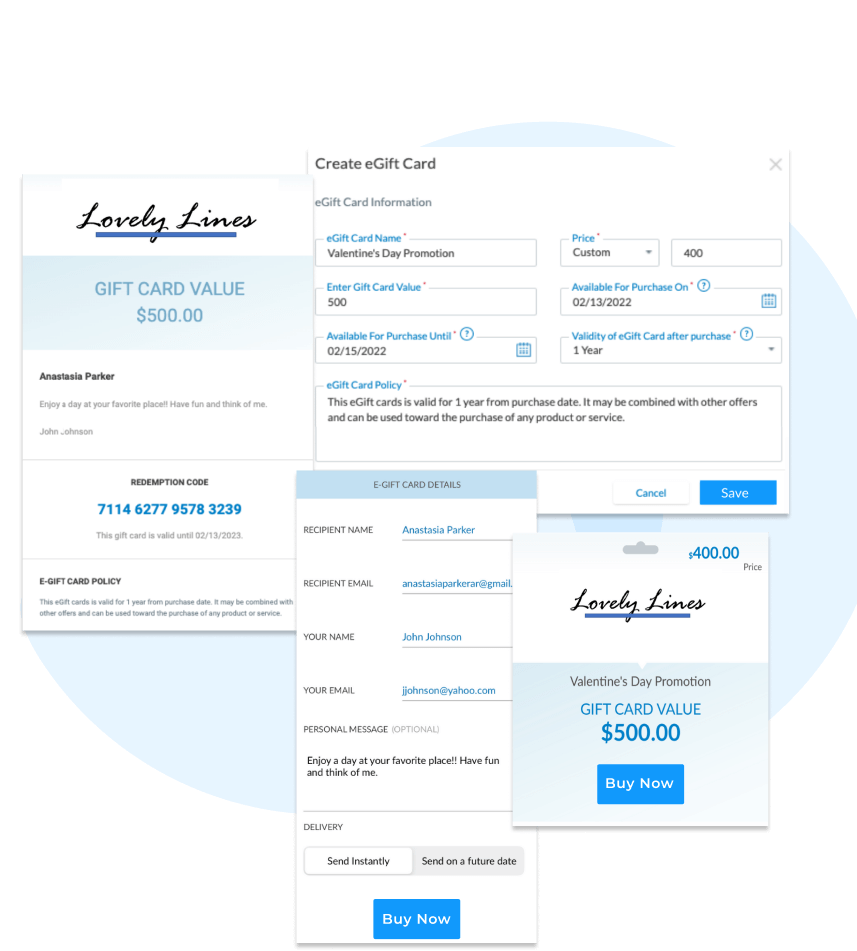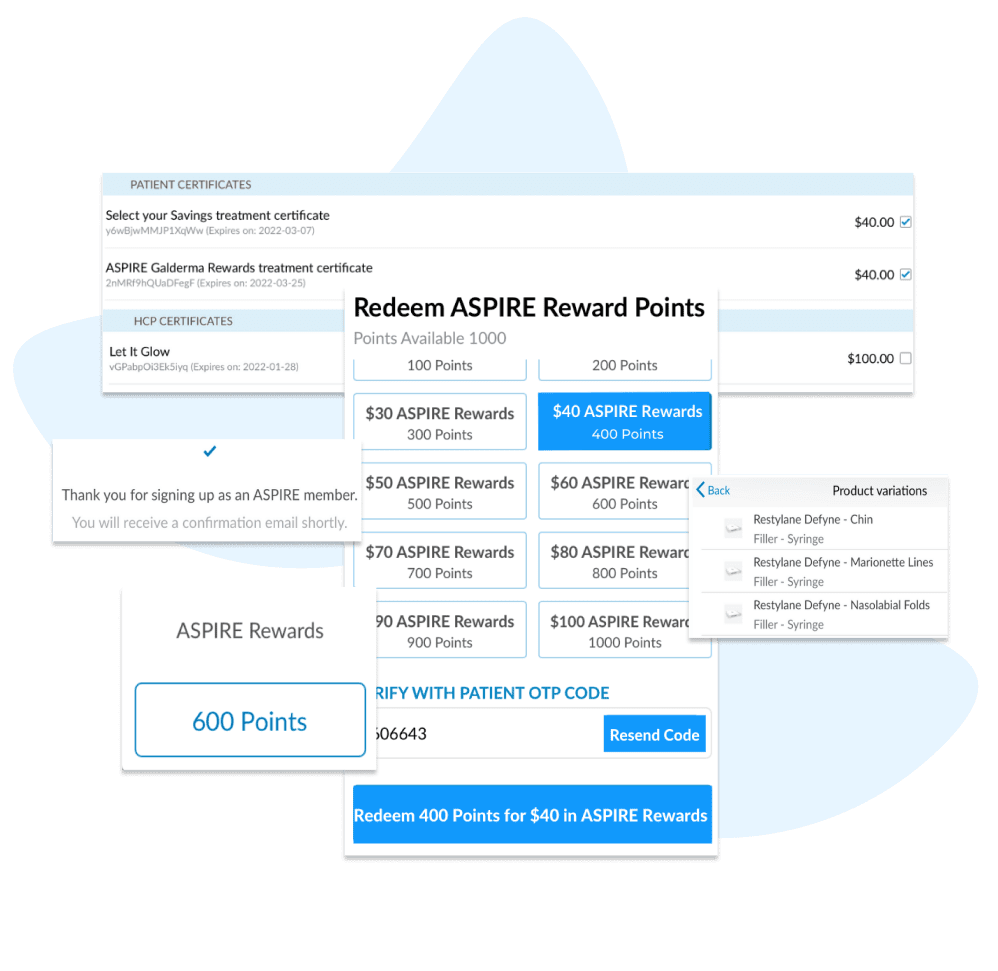 Extend the benefits of ASPIRE Galderma Rewards to your Patients without leaving the Aesthetic Record Point-of-Sale. With our full integration, you can register Patients using existing profile information, and for those already enrolled, you can check real time point balances. Staff can redeem ASPIRE Reward points within AR, so Patients can skip the redemption process and supply a real-time OTP code, instead. It's easy to apply any available certificate to an existing cart! Whether it's points you just reedemed, a welcome promotion, or an HCP reward, staff can click to apply as many certificates as desired. With the AR chart-to-cart connection, you can chart Galderma products based on the ASPIRE indications, and once checkout is complete, we'll send it all to ASPIRE for you. Every ASPIRE certificate redemption can be found on a dedicated report in Business Insights, making your weekly payment reconciliation a cinch.
With Evolus QuickConnect, you can jump from Aesthetic Record to the Evolus Rewards portal with the click of a button. This feature was designed to save your Staff valuable time and reduce the number of steps required to enter the Evolus portal. The Redeem button takes you straight to Evolus to start the Patient Check-in process. You will still need to login, input the Magic Phrase and redeem inside of the Evolus site, but as soon as you're done, you'll land back inside of AR where you can apply those rewards to a Jeuveau treatment. This structured discount appears on the invoice, on your Discount Report, and within the Patient Reward reports in Business Insights. You can isolate a list of all Evolus Patients who've redeemed in a given time period so you can track your progress toward earning free vials!